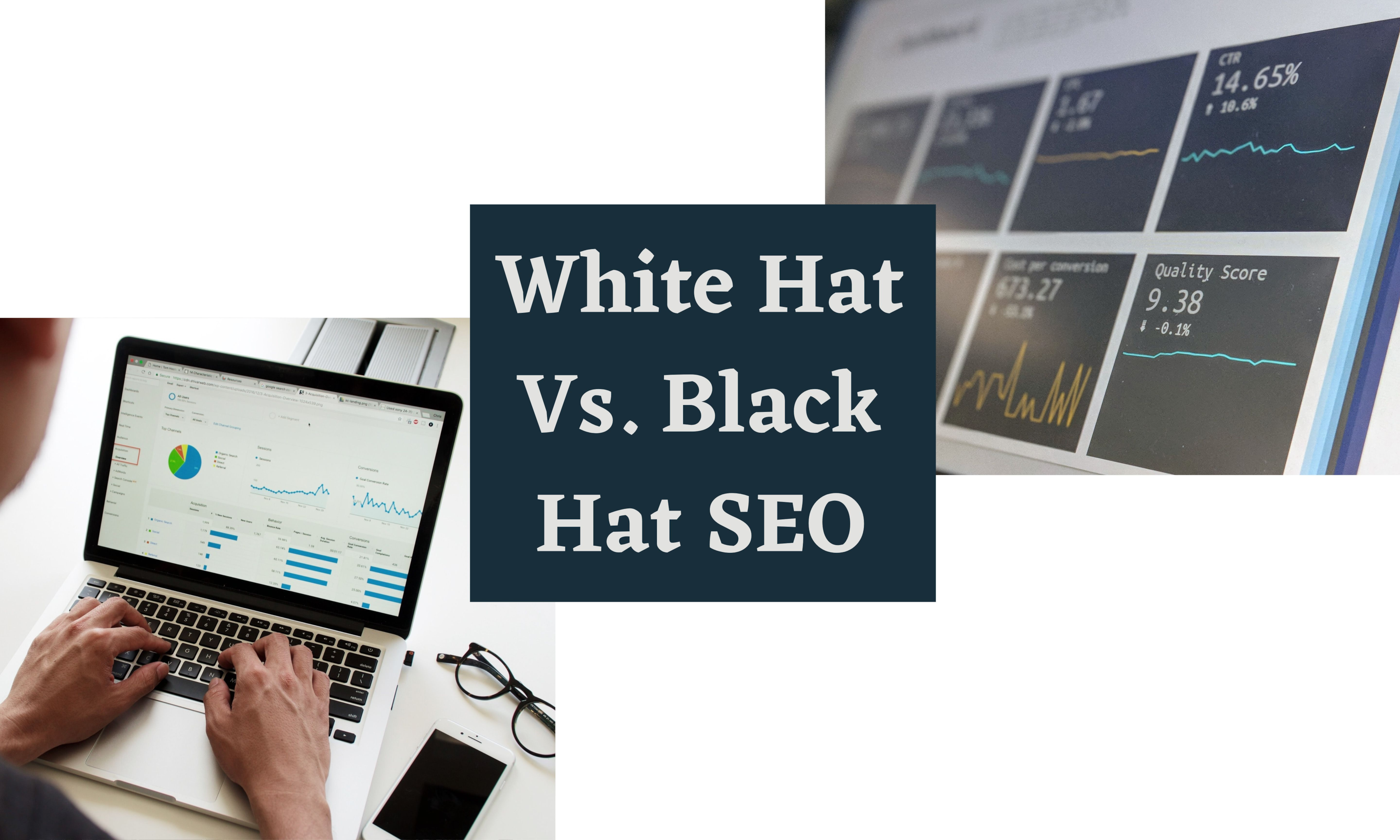 In search engine optimization, there are plenty of misconceptions about what counts as legitimate SEO techniques. If you're doing SEO, you need to know black-hat and white-hat SEO concepts. Differentiating between black, grey, and white hat SEO can help you plan for your long-term SEO goals.
This article looks at each approach to help determine the most effective SEO strategies for your search engine ranking. We explain everything you must know about these methods to determine which one's worth incorporating into your plan of action.
To begin with, what is search engine optimization?
It is the process of improving the volume and quality of traffic to a website. Higher-ranked sites are high on the search engine result pages, which means the website naturally gets more visitors. SEOs have become a much sought-after internet marketing strategy because of the rising importance of search engines like Google. Search engines determine search ranking through proprietary algorithms. These algorithms use well-known principles that SEO seeks to apply to improve search rankings. Black-hat and white-hat SEO differ based on the techniques used when applying these principles.
What is a white hat SEO?
In simple terms, white hat meaning doing doing search engine optimization exactly how Google wants you to do it. It requires following Google's guidelines to create a long-term SEO game plan. This is a suitable method for achieving high search rankings while adhering to the guidelines.
White hat SEO can help rank your site higher using ethical techniques, good content, appropriate keywords, and smart marketing angles. Following search engine guidelines and regulations, white-hat optimization ensures search engines can offer value to users.
Features of White Hat SEO
·         It focuses on a human audience
·         It follows search engine guidelines
·         Takes a long-term approach
Some White Hat SEO Approaches
White-hat SEO's main aim is to create content for users, not search engines, and promote accessibility. It follows all SEO guidelines and ensures that the content indexed by a search engine is the same as the content a human user will see. Let's look at the tactics white hat SEOs use and some white hat SEO examples.
Content Creation
Content creation entails creating unique, intuitive, and original content that provides high value to readers and viewers. It is one of the best strategies to improve your reputation and position on search engines and generate incoming links naturally. SEO experts often curate website content so the site ends in the top few search engine results. Publishing high-quality content will help a site to appear more valuable to the search engine and human visitors.
While content creation can be time-consuming, it is worthwhile in the long run.
Site Optimization
The backbone of SEO lies in manipulating the content, wording, and site structure to obtain the highest search engine positioning. Consider everything from getting solid titles and Meta tags to tweaking the content and maximizing its search engine effectiveness. Moreover, Google's algorithm uses the mobile version as an indexing platform. This makes optimizing the mobile site with a responsive design.
Link Building
This is one of the most accessible white-hat SEO strategies. You have to make it easy for search engines to find their way through your website. Your SEO efforts should prioritize authoritative inbound links acquired organically instead of paid links.
Another strategy can be link baiting, where you create content that invites people to link to your page from another website. For example, it can be through highly informative articles, news stories, or sensational content. You need authoritative inbound links gained organically to increase site traffic, but it takes time and dedication to find them.
Improved Loading Speed
Improving loading speed is crucial for search engine positioning and a positive user experience. It's necessary because responsive sites do not frustrate visitors or encourage bounces. Page speed is a search ranking signal, like simple navigation or mobile optimization. White-hat SEO techniques ensure that your website's loading time is not slowing.
Keyword Research
During white-hat SEO, keyword research helps find the brand's most relevant search engine terms. The idea is to use the keywords naturally in the content; however, you must take caution and avoid keyword stuffing because it's one of the black hat methods.
Guest Blogging
This technique entails writing a blog post for someone else's blog. The incentive for doing this is to get backlinks to increase the guest bloggers' site and search engine rankings.
What does "black hat" SEO entail?
Black hat meaning aggressive tactics and strategies focusing on search engines rather than human audiences. It entails improving rankings deceptively using content automation, negative SEO, doorway pages, hidden text or links, and keyword stuffing. Usually, these techniques don't obey search engine rules and are used to attract those looking for sound financial returns on their website. Therefore, black-hat SEO strategies go against current guidelines.
This strategy aims to achieve fast search engine results through keyword stuffing that violates Google's standards. It relies on tricking Google into quickly climbing the result pages. While manipulating Google's algorithm can cause higher SERP ranking in the short term, it will likely have the opposite effect in the long run.
Features of Black Hat SEO
·         It tries to deceive Google's algorithm
·         Contains spam keywords into on-page content to fool search engine spiders
·         It violates search engine guidelines
·         It focuses on quick wins
Black Hat SEO Approaches
The black hat SEO techniques include characteristics that break the search engine rules and regulations. They're considered as ethical means of getting search engine rankings. Some of the black hat SEO approaches include the following.
Doorway Pages
These websites rank for a particular keyword or key phrase rather than for users. This means the user is automatically redirected to the target page. Search engine crawlers from the search engine can see doorway pages in their place.
Invisible Text or Links
This old black hat SEO practice violates the regulations of displaying the same content to users and crawlers. It involves hiding text that repeats keywords by putting text in the same color as the background or reducing its size. For example, you place keywords in white text on a white background to attract search engine spiders. Search engines identify the hidden text as comment spam because your site's visitors cannot see them.
Spinning
Spinning is one of the black hat SEO methods based on hacking content creation using programs that modify a single article to generate several texts. This practice doesn't add any value to the reader, and the Google algorithm can easily detect it.
Link Farming and Selling
Link farming is when a bunch of farms all link to each other, while link selling involves paying for links or a post with links in it. A competitor can pay link farms to point bad links to your website from other sites. Backlinks or inbound links are essential for positioning a website, but you must obtain them organically. If you purchase and sell backlinks, it is considered a black hat SEO technique that can be penalized.
Keyword Stuffing
It is a popular black hat strategy where you enter a keyword repeatedly on a site for the search engines to position it. Keyword stuffing occurs when you try to manipulate the website's rankings by repeatedly using unrelated keywords in an unnatural and irrelevant manner. Google requires that keywords are only used in a natural way and respond to your audience's requirements by offering helpful insight. Using irrelevant keywords without reason can affect the quality of your content piece.
What's the difference between white hat SEO vs black hat SEO?
White and black hat SEO are different strategies involved that yield varied results. The white-hat SEO refers to the legitimate way of encompassing ethical, transparent, and non-penalized techniques. It doesn't use shady tactics or sneaky workarounds to fool the algorithms. SEO best practices entail avoiding link schemes at all costs.
The difference between white and black-hat SEO relates to the specific technique used to improve the search engine ranking of your website or webpage. It also boils down to doing the right thing. The primary distinction between the two tactics is that while white-hat SEO adheres to Google's advice and improves user experience, black-hat tactics breach those guidelines.
Advantages of White Hat SEO for User Experience
White-hat SEO offers security compared to black-hat SEO techniques. The websites are not penalized by Google because they follow Google's guidelines and rules. If you get to the top positions using white hat SEO, you're doing things correctly while bringing value uses.
The white-hat techniques also generate high-quality organic traffic, increasing digital marketing indicators like conversion and lead generation. When you use the white hat SEO technique, you get high-quality traffic and search results because it's likely more qualified.
You also enjoy more stability with white-hat SEO because your position stays more stable even if there are changes in Google's algorithm. This is not the case with black-hat SEO techniques that can be penalized and drop rankings with any algorithm change.
Which search engines should you use?
Most people agree that white-hat SEO techniques are better than black-hat techniques. While improving search rankings takes longer, it is the right thing to do. Improve page load times and publish high-quality content to increase the value users receive from a website.
Black hat SEO relies on shortcuts to your ranking success, but it is always short-lived. It sometimes brings immediate results but is never worth it and comes with severe penalties. If you use the black hat SEO strategy, you risk losing your rankings every time there's a new algorithm update. There is also a risk of getting your site banned if Google finds out you follow unethical ranking methods.
The main problem with black hat SEO tactics is that it doesn't bring any value to the end user. It is always better to step by step and build a solid foundation using white hat techniques. Determine whether you feel comfortable explaining what you've done to a website that competes with you or a Google employee.
What entails gray hat SEO?
The gray hat is in a little black-hat SEO and white-hat SEO zone. It is currently either a white or black hat strategy but with changes to the ways search engines work. For example, rewriting an article that did well without providing originality is a gray-hat tactic. It's a blurred line. Not something that you would willingly inform Google you are doing. Understanding what is and is not gray hat depends on who you're talking to since some people consider getting a login form of Grey hat SEO.
A popular question among site owners when choosing between white-hat and black-hat SEO tactics is where link-building lies. Most site owners build links to improve their rankings and not affect user experience. They only focus on increasing the site's trustworthiness with search engines. The good news is that link building is not part of the black hat SEO approach, but you must exercise caution in your SEO strategies.
Search Engine Guidelines
Google has clear webmaster guidelines used by SEO professionals to identify what could risk a website if discovered. In these guidelines, Google calls activities like clocking and duplicating content common forms of deceptive or manipulative behavior.
Google, Panda, and Payday are measures taken to lessen the presence of websites in the SERPs that don't follow the guidelines. Google's Panda update rewards websites with high-quality content to prevent site owners who don't provide excellent site experience from ranking well. The recent update means low-quality pages on the site affect the ranking of the pages and the entire website.
Bottom Line
White-hat and black-hat strategies share a common goal: to rank your site, but they use different methods. Black-hat SEO is short-lived despite promising quick results, while white-hat SEO promises consistency. Most successful brands use SEO strategies in their search engine efforts to make the site more visible with quality content.
This article has examined the difference between white-hat and black-hat SEO strategies. Understanding the difference is essential to maintaining the integrity of your website, online ranking, and visibility even when done unintentionally; practicing black hat SEO can cause a penalty from search engines, which can hurt the ranking in the long term or get your website banned.
Links
https://www.forbes.com/sites/forbesbusinessdevelopmentcouncil/2022/02/22/why-seo-is-important-to-your-website/